Pet toy type Chew toy
Target species Dog
Theme Animal
Breed Suggestion Medium. Large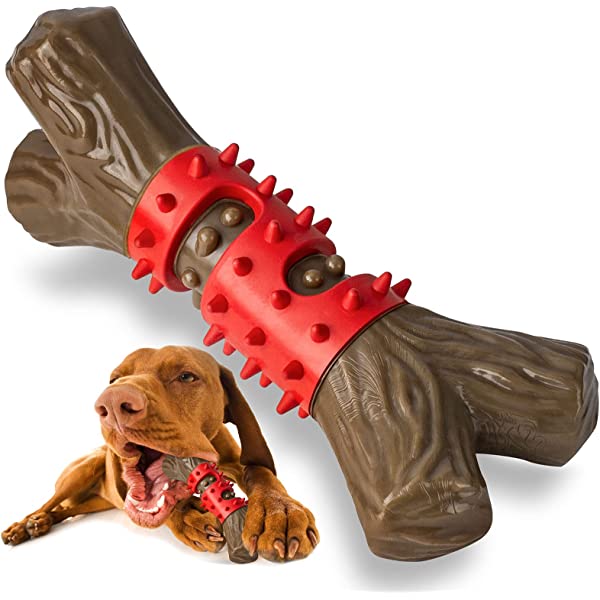 About this product
Tough dog toys for large breeds: Dogs love to chew instinctively need to chew. durable chew toys designed for extreme chewers and all chewing habits. The dog chew toy. like a wooden stick. is easy to grip so your loved one can quickly grab it and get a good chew. Think about it:Dogs don't have thumbs. Durable dog toys for high-intensity chewers weighing between 15 pounds and 100 pounds to meet their chewing needs.
Safe chew toys for medium-sized dogs: Durable stick dog chew toys are made of nylon and soft rubber. one of the great materials for indestructible dog toys. Tough chew toys will keep your dog happy and more importantly. away from your shoes and pillows. Dog Toys Bully Chews are the best indestructible dog toys that bring endless fun to your dog.
Dog Teething Beef Flavor Safety Toy: Inspired by beef flavor. this rubber dog toy features soft rubber dots that help gently massage gums and ease teething pain. To make it more fun and extend your dog's play time. you can coat the chew toy with a thin layer of peanut butter.

Outdoor dog exercise toys: Dogs always need interactive activities to keep their minds busy. Dogs need lots of playtime and exercise. Without proper intellectual stimulation. dogs can become destructive. especially when it comes to their mental and cognitive development. Throwing interactive dog toys helps you and your dog stay strict and fun. and keeps your dog healthy.